Foot tapping
Foot tapping
Appendix C : Foot Tapping
Introduction
Playing Québécois music on the harmonica is a lot of fun. Tapping your feet while playing is even more fun. Often frustrating to the beginner, foot tapping, "tappage de pieds," is an integral part of Québécois music and is not as difficult as it first appears. Once you learn to foot tap, you'll not be able to play without doing it. You won't be able to help yourself. Remember, Québécois music is dance music. Tapping your feet puts you in touch with the essential character of this music.
The foot tapping we'll teach you is not the fancier "podoryhthmy" practiced by Alain Lamontagne, Michel Bordeleau of La Bottine sourriante, and Norman Legault, one of the best gigue dancers in Québec. Podoryhthmy is truly an art form, much more complex, and beyond the scope of this book. So, we herein attempt to teach you the basics of foot tapping by using a language that has only 26 letters in its alphabet. We're aware that we may be trying to describe a painting to a blind person. But, we're going to try anyway. Afterall, Ray is blind, and he can do it.
Most people foot tap to reels (either 2/4 or 4/4 time), but there's no reason why you can't tap to 6/8s, and many do. There are many foot tapping styles, some simple, some quite complex. We will start on the most common, which is also very simple, the one you hear on the instructional CD, and the one that 99% of all Québécois foot tappers use. It's called "tapage en trois" (tapping in three) because it sounds like a trotting horse: TA GA DA TA GA DA. Listen to the introduction to "Hommage à Edmond Pariseau" on the instructional CD. Later, we'll discuss "tapage en quatre" (tapping in four).
Tapping in threes
Ready ? Put on some hard-soled shoes - dress shoes and black military shoes are great. Sit
down on a straight-back chair on a wooden floor. We'll start you off with "Reel des noces d'or" because it is a classic and easy for beginners. First, so you can thoroughly understand the technique, we'll teach you how to foot tap to the recording.
Study the diagram below. It represents the first two measures of "Reel des noces d'or." Numbers 1, 2, 3, and 4 represent the down beats (1 and 3 are the strong beats; 2 and 4 are the weak beats); the "&s" represent the syncopated or up beats. Play the tune on your CD player, and start counting 1 & 2 & 3 & 4 & 1 & 2 & 3 & 4 etc. so that you have four counts per measure. Start tapping your right foot on the downbeats. Tap with your entire foot so that it flatly hits the floor on each downbeat. To do this, you'll have to lift your entire leg an inch or two – no more – on each upbeat. (If you're left-handed/left-footed, use your left foot.) Do this until you have mastered it - at least one time through the entire tune.
Now, stop the CD but keep tapping. Slow the pace of your tapping just a bit. Keep tapping, but stop counting and introduce your left foot into the mix by tapping it on every other upbeat – the "&s" (see the diagram). Your tapping should sound like the TAGADA TAGADA of a galloping horse.
Your two legs should be acting like pistons. While your right foot is keeping the tempo on the downbeats (the TAs and the DAs), your left foot is coming in on every other upbeat (the GAs).
While tapping, try to relax. Don't tense up. Most importantly, economize your movements. Pump your legs up and down only a couple of inches, with as little side-to-side and front-to-back motion as possible. Keep your legs and feet as close to your chair and to each other as possible. In other words, tap tightly. By observing these principles, your tapping will be more percussive, and you'll tire less quickly. Foot tapping takes energy and can tire you out quickly. You don't want to tire out before an entire tune or set is complete. If you take another look at the diagram above, you'll understand why we call this "tapping-in-threes." You can depart from this basic format and the principles just discussed later – after you master them.
You can see a video here : https://www.youtube.com/watch?v=l-oNC506K6E
Tapping in fours
Some day, you may have the pleasure of listening to a recording of fiddler Louis "Pitou" Boudreault. You'll be surprised not to hear the TAGADA we've just discussed. Pitou taps in fours: his left foot taps on every upbeat. You hear TAGADAGA TAGADAGA. Actually, because he taps on all the notes – downbeats and upbeats, we could say he taps in eights. Actually, because the two legs are pumping up and down in synchrony, you may find his method easier. Try it.
When you master either one of the techniques, introduce some variations. The simplest ones are to punctuate the ends of musical phrases either by also tapping the right foot on the upbeats (tapping both feet at the same time) or switching from tapping in threes to tapping in fours. To hear an example of the former, listen to the second time the B part of "Reel de la petite chapelle de bois" is played. No matter what the varaiation, let the music guide you.
The following recordings have some good examples of various types of foot tapping :
Louis "Pitou" Boudreault violoneux, raconteur, Portrait du vieux Kébec, vol. 2 (Le Tamanoir OP-219, 1974).
Louis "Pitou" Boudreault violoneux, Portrait du vieux Kébec, vol. 12 (Le Tamanoir TAM-512, 1976).
Louis Boudreault : Old Time Fiddler from Chicoutimi, Quebec (Voyager VRLP-322-5, 1977).
Louis "Pitou" Boudreault: Musique et danse traditionnelle du Saguenay - Lac-Saint Jean (réédition OP-219 & TAM 512 ; Le Tamanoir TAM-27018, 1978).
Géographie sonore du Québec : Saguenay-Lac Saint Jean (Les Editions Patrimoine, PAT 2000, 1982).

Michel Brault et (and) André Gladu ont par ailleurs réalisé un (produced a) film "Pitou Boudreault, violoneux" (Nanouk Films, 1975) dans le cadre de la série de (in the series) l'

ONF

"Le son des français d'Amérique".

Grey Larsen / André Marchand : Orange tree (Sleepy Creek Music SCM 101, 1993) : sur le morceau (on the tune) "Turlutte acadienne" on y entend là aussi du tapage de pieds en quatre (on that tune, there's some tapping in fours).

Alain Lamontagne : n'importe quel CD (any of his CDs).

La Bottine Souriante : n'importe quel disque sur lequel figure (any of the CDs featuring) Michel Bordeleau.

Les charbonniers de l'enfer : chansons à cappella, (Auto production, 1996) : sur la chanson (on the song) "La luette en colère" on peut entendre un bon exemple de tapage en 6/8 (there's a good example of tapping in 6/8 time).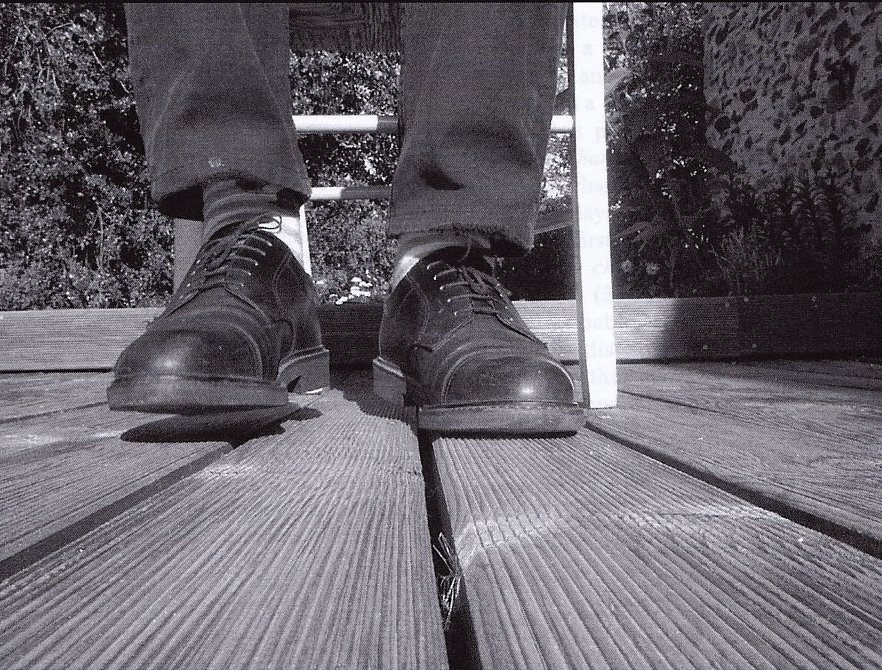 Date de dernière mise à jour : 27/12/2015